There's no denying that wellness in the workplace is a huge trend in corporate real estate right now. We see many of our clients creating spaces that foster a culture of wellness in a variety of ways, such as choosing healthy building materials, providing access to healthy food, or building in-house fitness facilities. One principle we often see applied is creating a connection to nature within the work environment, which has shown to provide many benefits for our minds and bodies. Spaces are being built to maximize daylight and views, sites are selected based on proximity to walking paths or green space, and when feasible, we've seen many of our clients creating outdoor space of their own. And what better way to get your employees outside than to give them a roof deck!  With Summer in full swing and the serious desire to spend time outside, we're looking back at a few awesome roof decks we've built:
BREATHTAKING VIEWS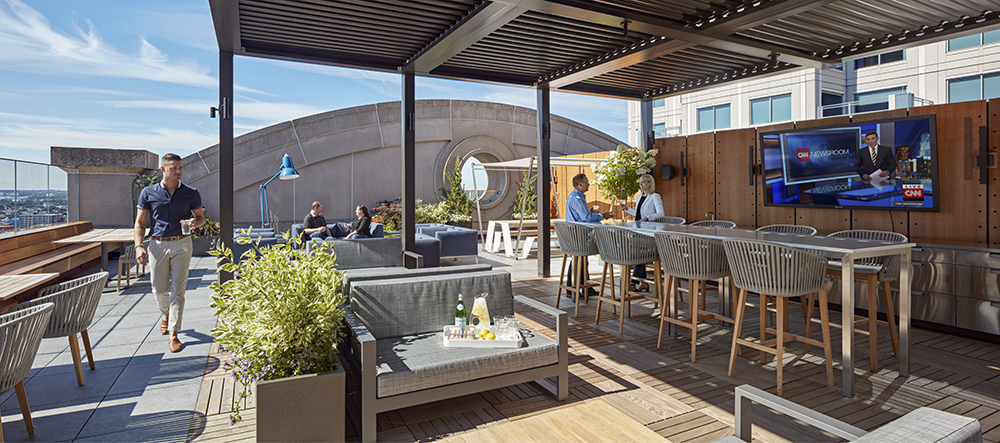 Twenty-one stories above Summer Street in Boston, you can find Analog Devices' employees enjoying the summer sun on their beautiful roof decks. Not an original amenity of the building, the technology company wanted to take advantage of the property's gorgeous city views by adding two roof decks off their new global satellite office. Building a roof deck in an occupied building high above a busy city plaza was no easy feat: without room for a crane, all the building materials had to be coordinated up through the building's main elevators. Since many of the deck elements were not intended for use that high off the ground, significant testing of the paver systems, glass railing, and operable trellis were done to ensure they would withstand any wind, rain and snow loads. Additionally, a supplemental steel infrastructure was built over the roof to support these systems. Through careful coordination and collaboration with the entire team, we delivered an amazing outdoor escape for Analog's hardworking team.
THE GREEN ROOF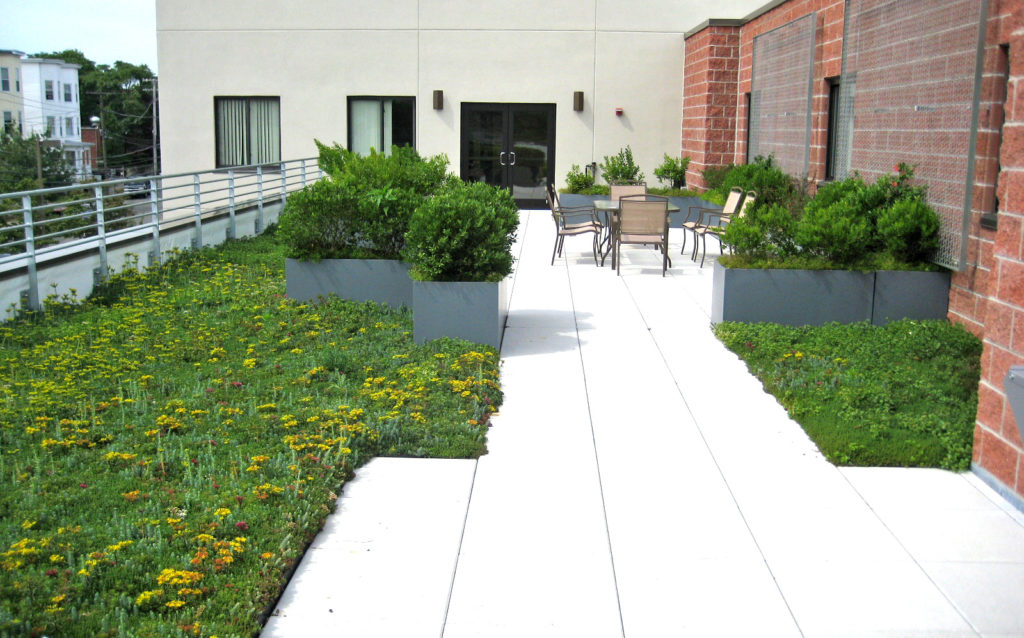 Long-time client Element Care elected to build a vegetated roof to help with some parking lot drainage issues at their Lynn, MA facility. By applying an absorptive layer of plants over the roof's surface, they were able to significantly minimize the amount of impervious surface and eliminate most of the stormwater from running into the parking lot. Green roofs can also offer other substantial benefits: they are visually appealing, provide enhanced insulation, and reduce heat island effect. Element Care's facilities team was psyched to resolve the flooding issue, but their employees were even more delighted by their new outdoor breakroom.
OUR ENERGY OASIS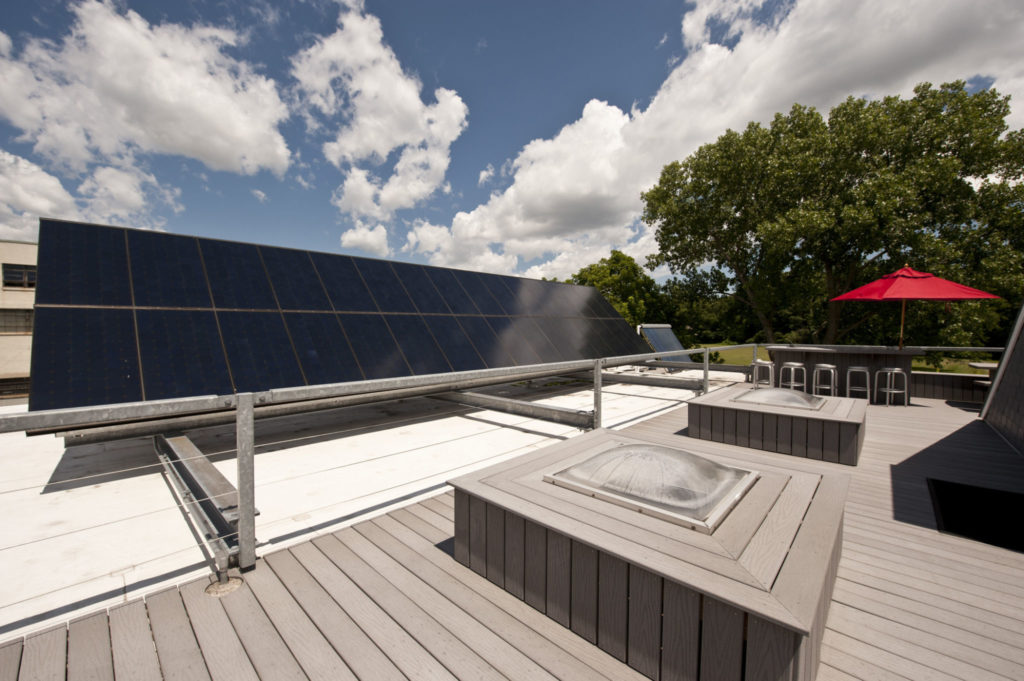 Built as part of Chapman's LEED Platinum renovation, our roof deck showcases the 43 kW PV array that generates most our office's energy needs. In addition to the solar panels, visitors can see a variety of other sustainable strategies in use. A white roof membrane reduces the heat island effect lowering the surface temperature from 180° to 100° on an 80° day, which allows our HVAC system to run more efficiently. Adding to the heat reduction, our vegetated roof provides a layer of insulation and helps with stormwater runoff. Aside from showcasing our commitment to sustainability, the greatest perk is offering our employees an oasis for a well-deserved break.
If you are looking for an experienced partner on your next roof deck project, contact us today!
Click any of the images above to see more photos from that project!